Report from Tom: Nick, Marcia, Alycia, Tomomi, Robin and Liz presented and represented our GK-12 Project at the 2012 Annual Meeting for GK-12 Project Teams, held at the Hyatt Regency on Capitol Hill, March 16-18.  I cheered them on, took pictures and took great pride in they way they represented all of us.  Nick's roundtable discussions about fostering quantitative reasoning skills were well-attended and well-received.  Our BEST Team presentation on Building Long-Term Research Projects and Collaborations was a big hit, even though it was at the worst possible time (early Sunday morning) and location (a room hidden behind the bar).  Participants were very enthusiastic about our presentation and activities and full of questions and suggestions.  It was especially gratifying to learn that other projects are studying our website and adopting some of our innovations.  There were 103 projects represented at the meeting and many of them are doing very interesting things, but I liked ours the BEST!  I also liked the crab cakes at Clyde's the best, but the crab cakes at My Brother's Place were very good and much cheaper.  Additional information about the meeting, the agenda and abstracts of presentation are available at http://www.gk12.org/meetings/ .  At out GK-12 publications page (http://kbsgk12project.kbs.msu.edu/publications/ ) there are links to our poster (http://kbsgk12project.kbs.msu.edu/publications/ ) and the slides from our presentation (http://kbsgk12project.kbs.msu.edu/wp-content/uploads/2011/02/GK-12-annual-meeting-workshop-2012-reduced.pdf ).  Now it is time for me to step out of the way and let the BEST Team share their experiences.
Report from Nick: Attending my first GK-12 conference was both exciting and encouraging.  I was fortunate to interact with numerous partner teachers and fellows who were bubbling over with enthusiasm and motivation to improve science education.  This was especially true at my roundtable discussions on fostering critical thinking and at our BEST team presentation.
During my roundtable discussions I explained a lesson structure that I have created that focuses on developing the core critical thinking skills required to perform many essential tasks in science, such as engaging in argument from evidence and making claims and supporting them with evidence. My audience engaged me in fruitful discussion and provided me with ample positive feedback and insightful suggestions throughout, which left me feeling that my presentations were a success.
Despite The BEST team's presentation time and room placement, we attracted an audience that was so engaged with our presentation on building long-term research projects that we ran out of time while trying to address all of the positive comments and feedback we received. It seemed that each time that we transitioned from one speaker to another, a group discussion would spontaneously occur where several audience members would ask questions and praise our work.  In fact, we had several participants stay behind after our presentation ended to continue to discuss our project further with us, which to me is always a sure sign of genuine interest in a presentation.
Report from Robin: This year I attended my third (and probably last L) GK-12 Annual Meeting. This was the second time our project has been chosen to present a workshop for PIs, Fellows, and K-12 Partner Teachers in attendance. I was honored to share our experiences, and your hard work over the last two years, building the BEST Research Network, and I truly enjoyed watching our Fellows shine as they described their own research and how they bring their work to the BEST Research Network and K-12 classrooms throughout SW Michigan. They are amazing! But, you all know that already. There is definitely a lot of enthusiasm in the GK-12 community about the work we are doing and the opportunities that long-term research networks offer for doing open-ended inquiry in K-12 schools. Keep up the great work, everyone. It's an honor to represent you!
Marcia and I attended a fun workshop to learn about using 1 minute videos to quickly introduce teachers to the content included in lessons that GK-12 projects post on their website – the idea is that short videos are not only engaging, but save teachers the hassle of reading through paragraphs to text to figure out whether they want to use a particular lesson. We think this would be a great way to introduce our BEST plots protocols, so be on the look out for quick videos that introduce the Biomass and Biodiversity, Soils, and Landscape-level protocols this summer. You could even use these to introduce the protocols to your students and get them excited about going outside. We'll keep you posted…
Report from Liz: I feel very lucky to have been able to attend the final GK-12 conference – I know our project has accomplished great things so far, and it was great to learn about the amazing work others are doing as well. It was clear everyone had ample enthusiasm for their work and that the connection between the universities and K-12 classes will continue long after funding runs out for this program.
During our presentation, it was easy for me to share the ways in which being a GK-12 fellow has helped me in my graduate career. Not only has my time as a fellow given me more confidence as a public speaker and educator, but also more clarity in the main ideas behind my dissertation research. It was a lot of fun to present my Invasive Species Game with the audience, and to share how it related to my research and basic ecology principles that teachers are discussing in their classrooms. I received many great suggestions of ways to expand the reach of my Invasive Species Game, and I can't wait to try them out at our next KBS Workshop!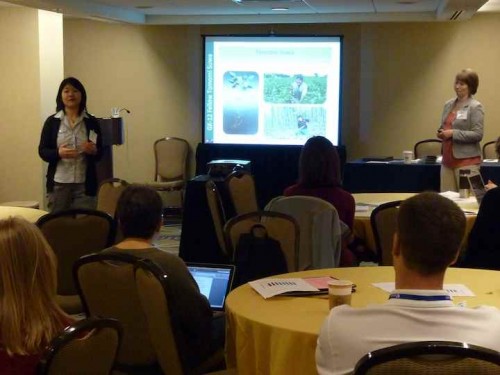 Report from Alycia: Our presentation went amazingly well! Some participants said it was the best workshop they attended all weekend! Another GK-12 project is eager for us to publish the Data Nuggets because they use them for their project. Everyone also loved the invasive species game Liz presented. Definitely a success!
I attended one session about skipping lecture and using active learning techniques in the classroom. It was great to see familiar and new techniques in action. One useful tool was constructivism – having students construct their understanding instead of having information given to them. The presenter used an example with significant figures where she providers her students with a series of examples and gets them to construct the rules for determining the number of significant figures. I also attended a session on evaluating GK-12 projects. One idea I'm keen to try out is to have all of the fellows share their research gains at the next workshop. We can do a "year-in-review" both for our experiences in the classroom as well as our progress on our research. It would be great to share this with the teachers and put our communication skills to the test.
It was great to interact with everyone at this conference that was so enthusiastic about improving science education. It makes me feel good about the work we do in the classroom. I can also see the benefits of our professional development and how that will prepare us for careers in science.
Report from Tomomi: This was my first time participating in the GK-12 conference and I had a lot of fun sharing our GK-12 project with an enthusiastic audience. During our 75 minute presentation, six of us each spoke a little bit about our project. Alycia and I talked about how we practice inquiry at all stages of the scientific process in the classroom using the BEST plots. Then I summarized the benefits and challenges of our GK-12 project. While we had some logistical challenges (e.g. low germination, weedy plots and data management), it was a really great experience for all of the fellows to exercise inquiry-based science with students at different levels. We also feel more confident as scientists and educators, and comfortable talking about our research to a wide audience.
Overall, our presentation was pretty well received – participants had a lot of constructive comments and suggestions. I'm happy to report that we represented everyone's hard work well and that the people were really interested in our project! I feel very lucky to be part of the KBS GK-12 network.
Next year, I will continue to be involved in the GK-12 program at KBS, so I look forward to keeping the momentum going! I'd also like to incorporate some of the ideas I learned at this conference in the classroom next year.
Report from Marcia: Having the opportunity to attend my first GK-12 Conference was both amazing and bitter/sweet.  I was so proud of our BEST team and their dedication to the things we do here at KBS.  The commitment to the program and enthusiasm for science and science education K-12 was certainly apparent.  I had a wonderful time getting to know the Fellows better and am certain all have fond memories of Washington DC in 2012.
Science teaching strategies, STEM topics in K-12, mini-grants, and watershed games were some of the topics I paid attention to during other workshops.   I thought our poster was one of the BEST at the conference, but enjoyed reading many others and often took pictures of ideas or concepts.  When the author of Life in the Treetops, Dr. Margaret Lowman spoke during lunch on Saturday I was totally enthralled. Having traveled to Central and South American rainforests myself I found her stories extremely entertaining. Studying the diversity of life by swabbing belly buttons is certainly something I never thought of!
The GK-12 program is strong and has certainly touched more lives of teachers and students than I ever imagined.  I spoke from the heart when I said at the conference that our Fellows make a difference in our classrooms and with the teachers they work with.  May these relationships continue for years to come, officially or not.
Closing comments from Robin:
As I'm sure you've gathered, we learned a lot, shared our experiences and expertise, and enjoyed each other's company at the GK-12 Annual Meeting in Washington D.C. this year. We were sad to hear that it was the last meeting of all the projects nationwide, but buoyed by the fantastic work that's happening across the country, the pride that GK-12 Fellows and Partner Teachers take in their work, and the efforts of all involved to sustain GK-12 in K-12 schools and universities beyond the life of our grants. Keep up the great work!