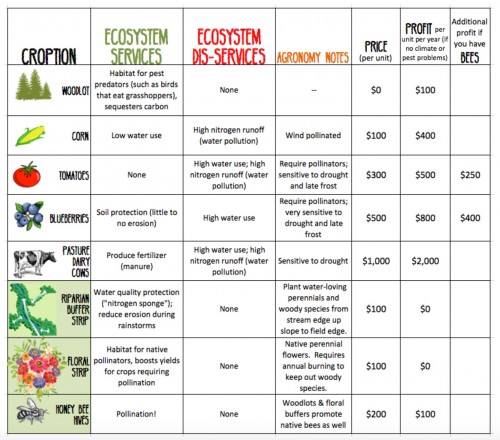 In this lesson students will explore the relationship between biodiversity and ecosystem services, from basic ecological theory to their economic value. Provided with a short introduction to the types of ecosystem services and their importance, students will play a game where they must make decisions regarding how to invest a limited amount of money on their own for-profit farm—can they manage economic and ecological tradeoffs to design a productive farm that also enhances ecosystem services?
At the conclusion of the lesson, students will be able to:
Define "ecosystem services" and explain the difference between supporting, provisioning, regulating, and cultural services.
Compare and contrast "ecosystem services" and "ecosystem function" and explain the importance of each
Using evidence obtained from a classroom activity, explain the biodiversity-ecosystem function hypothesis
Justify decision-making in a farming simulation as decisions relate to economic and ecological factors
Length of lesson: 50 minutes
Appropriate grade levels: middle and high school.
Resources:
"Croptions" Game Materials
Lesson Plan created by GK-12 Fellows Dani Fegan, Susan Magnoli, and Bonnie McGill, 2015